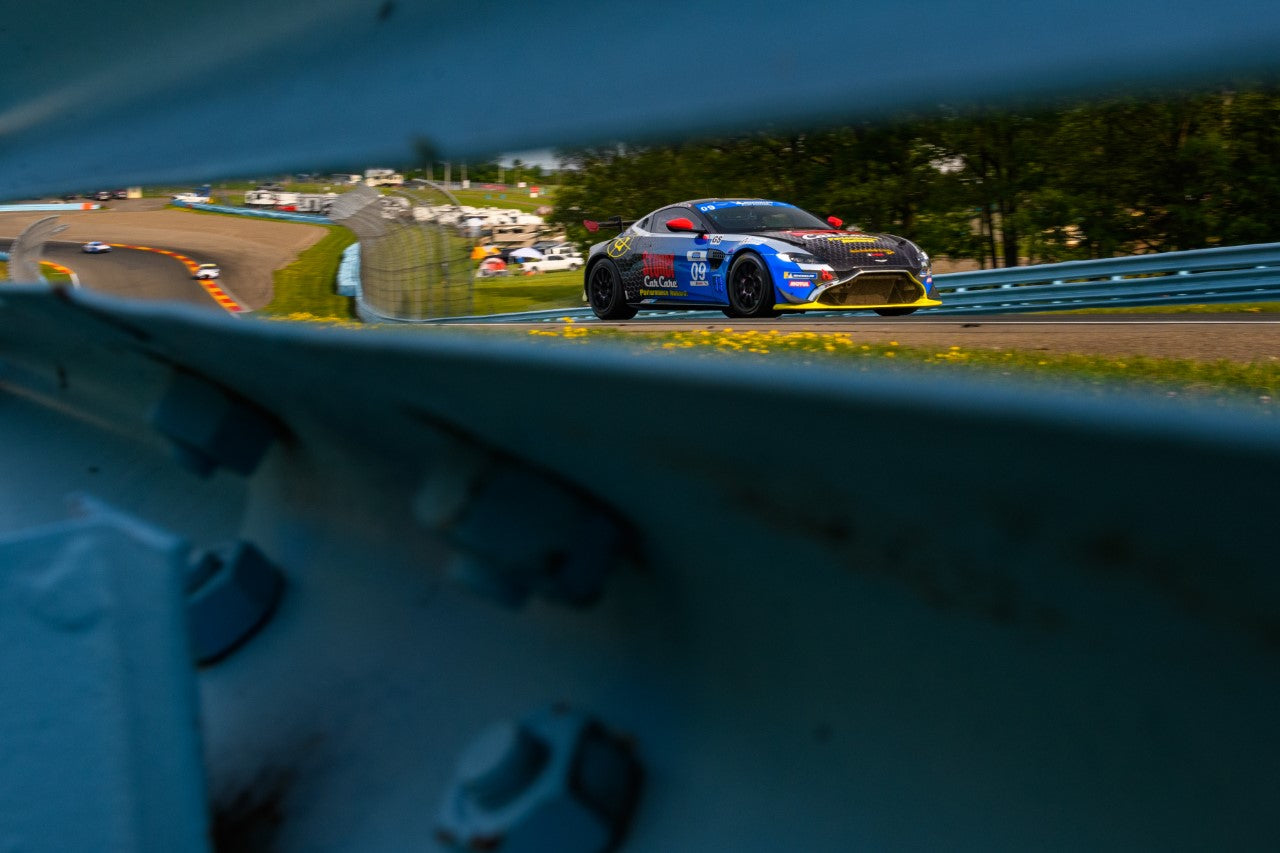 The team continues to work with End Alzheimer's Racing to bring awareness to this week's LONGEST DAY fundraising efforts
ORLANDO, Fla. (22 June 2022) – For Stoner Car Care Racing fielded by Automatic Racing's Rob Ecklin, Jr., the chance to race at Watkins Glen is a return to the very beginnings of his racing interests and career.
The son of a former Corning Inc. executive, Ecklin joins teammate Ramin Abdolvahabi behind the wheel of the No. 09 Stoner Car Care Aston Martin Vantage GT4 in Saturday's Tioga Downs Casino Resort 120, race five of the 2022 IMSA Michelin Pilot Challenge season.
The Ecklin family moved to Corning when Rob was only two weeks old, so he considers Corning his hometown – his father was transferred several times during his Corning career but always came back to the main headquarters in upstate New York. As a member of the Corning Enterprises board of directors, the elder Ecklin was also part of the team that worked with the International Speedway Corporation in 1984 to relaunch Watkins Glen International and return it to racing prominence.
"I watched so many races at Watkins Glen as a kid, before it closed and then reopened, so it's fun to come back here and race," said Ecklin with a smile. "We saw so many races, mostly Can-Am, Formula One. Honestly, it was kind of a seedy place back then. I remember "The Bog" area, where they'd burn cars and jump motorcycles. I was only in middle school so I had to stay away from there!" 
Young Ecklin shared his father's appreciation for cars but his love for racing didn't begin until the family was transferred to Hungary. There were several American families in the area and one father in particular helped spark the youngster's interest.
"One of the guys always had performance cars and I remember when he bought his 1972 Porsche 911 Targa," recalled Ecklin. "He did autocross at home so he would take us for rides in the countryside – no real speed limits, so it was quite high speed! That got me hooked. We drove the racetrack in Monaco in our family car, I had F1 model cars, and I started reading all the car magazines."
It wasn't until Ecklin had succeeded his grandfather Paul Stoner as CEO of Stoner Car Care that he was able to make those early dreams a reality. He did a Skip Barber three-day school at Watkins Glen and a two-day school at Lime Rock when he was in his early 40s, and began his racing career at Lime Rock. He can't begin to count how many laps he has at either track.
"I've raced at Watkins Glen for so long, just about every year since I began racing in 2011, but I couldn't begin to count the laps!"
There will be fewer laps this year, as the series is conducting a two-hour race instead of the usual four-hour endurance race. Does that change Ecklin's pre-race prep program? 
"Watkins Glen is a fast and physical track, whether it's four hours or two," said Ecklin. "You want to go in there with optimal fitness. You have to work hard to get a solid lap: stay flat up through the Esses, get your timing and brake point exact in the Boot as you climb up. But it's a fun track. This track works you a little harder than most, but otherwise it's the standard strategy – stay out of trouble and be there at the end."
The Stoner Car Care team continues to support End Alzheimer's Racing, carrying decals on the car to help their efforts to raise funds and awareness – especially since June is Alzheimer's & Brain Awareness Month. In addition, the June has the summer solstice, the longest day of the year. End Alzheimer's Racing works directly with The Longest Day campaign, an Alzheimer's Association fundraising initiative that encourages participants to combat the darkness of Alzheimer's disease through the activity of their choice. While the campaign centers on the summer solstice, efforts continue year-round to raise awareness and funds for Alzheimer's research. 
This year has already been the most successful year of fundraising to date for End Alzheimer's Racing. Counting the $4,721 raised on the team's website plus a separate corporate donation of $1,060, the team has raised a total of $5,781, exceeding the team's original goal of $5000 – and with the team still accepting donations for the year, it is hopeful that the $6K mark can be eclipsed. Funds donated to the Alzheimer's Association are used in providing Alzheimer's care and support for patients and their families, and in accelerating research to find treatments for the disease.  
The Tioga Downs Casino Resort 120, part of the IMSA WeatherTech SportsCar Championship's Sahlen's Six Hours of the Glen weekend, takes the green flag Saturday at 3:45 p.m. Eastern. The race will stream live in the U.S. on Peacock TV, while international viewers can watch via IMSA.tv. IMSA Radio will also be available at IMSA.com. A race replay will air on USA Network Friday, July 1 at 3:30 p.m. Eastern. 
ABOUT US
Stoner Car Care produces high-performance car washes, waxes, polishes, and dressings for auto enthusiasts and car care professionals. The Stoner Car Care line-up includes Invisible Glass, America's #1 Automotive Glass Cleaner, along with many other appearance products. Whether driving, washing or waxing, Performance Matters! Stoner car care proudly formulates all of our product since 1942. 
www.stonercarcare.com
Automatic Racing sees their way to victory with Invisible Glass, the top-selling automotive glass cleaner in the United States. The Invisible Glass product line includes aerosol and spray bottle cleaner, Invisible Glass with rain repellent for windshields and wiper blades. Find more online at 
https://www.invisibleglass.com/
Based in Orlando, Automatic Racing is one of the longest-running teams in the paddock, forming in 2001 and competing in all but one of the 11 MICHELIN Pilot Challenge races at Daytona. The team has been developing, preparing and racing the prestigious Aston Martin Vantage GT4 since 2012. Automatic Racing won the 2017 MICHELIN Pilot Challenge title.
About End Alzheimer's Racing
End Alzheimer's Racing began in 2019, as father and son duo Bill and Alex Slupski – both experienced kart racers who also work in sports car racing – chose racing as the "vehicle" for their program to promote awareness and raise funds for the Alzheimer's Association. Through End Alzheimer's Racing, they want to be an integral part of the support network for families dealing with Alzheimer's and other dementias and be part of the cure that ends Alzheimer's disease.