The weekend also sees the return of the iconic Invisible Glass colors
ORLANDO, Fla. (5 August 2021)– Michael de Quesada joins the Stoner Car Care Racing fielded by Automatic Racing team for this weekend's Road America 120 (Saturday, 5:30 p.m. Eastern, TRACKPASS), as the iconic No. 99 Invisible Glass Aston Martin Vantage GT4 makes its 2021 season debut in Round Seven of the Michelin Pilot Challenge.
De Quesada, the 2016 Porsche GT3 Cup Challenge USA Gold champion, will mark his first race in the GT4-based category. Team veteran Ramin Abdolvahabi will be alongside to help the 21-year-old make the transition at the legendary 4.048-mile road course, where the team has already earned two World Racing League podiums this season, including a victory.
 
For de Quesada, the opportunity to race with the team came at the perfect time, as his Alegra Motorsports team will sit out the IMSA WeatherTech SportsCar Championship event at Road America this weekend.
 
"The Aston Martin program with Stoner Car Care and Automatic Racing was the perfect opportunity," said de Quesada. "I've known those guys for a while, we shared a tent back in 2016. It's a good chance to keep racing and stay fresh, so that I'm on top of my game for the next WeatherTech race."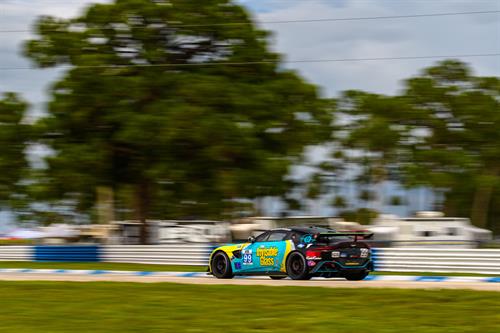 Automatic Racing team manager David Russell looks forward to working with de Quesada, given the team's longstanding relationship with both he and his father, Carlos, a former racer and the current team principal with Alegra Motorsports. In their early days in the Porsche GT3 Cup Challenge USA, the de Quesadas, based in Tampa, Fla., shared transportation with the Automatic team.
 
"We've known the de Quesadas for some time," said Russell. "We even helped them with transportation and shared an awning a few years ago, so there's a built-in trust factor there. Michael was available so it made sense and it was easy to put together. We've talked about doing something together in the past, and it almost came together a few years ago, so I'm glad this worked out. He's young, he's aggressive, he's diligent behind the wheel – and he's a lot of fun to have around! And it will be great to see the No. 99 back on track."
 
While De Quesada looks forward to the weekend, he wants to keep his expectations in check. Saturday's two-hour race will be his first Michelin Pilot Challenge event, and his first experience in a GT4 car in IMSA competition. But he knows the Stoner Car Care team will put a solid car on track.
 
"I raced a GT4 car at Daytona earlier this year, but that was on street tires, so this will be my first experience in the car and first time in Pilot Challenge," said de Quesada. "The competition in the series is outstanding, comparable to WeatherTech series, so I'm really excited. It's a good opportunity to diversify my skill set and gain even more experience."
 
"It's our job to give Michael a good car, we've done a fair amount of testing with it this year, even though it hasn't raced," said Russell. "We'll get him comfortable in the car and let that dictate where we land. Road America has some similarities in setup with Watkins Glen and we've tested there this year, so we feel very up to date. And having won at Road America in the World Racing League event earlier this year gives us confidence."
 
The two-hour Road America 120 takes the green flag Saturday at 5:35 p.m. Eastern. The race will be broadcast live in the U.S. on NBC Sports Gold's TrackPass, while international viewers can watch via IMSA.tv. IMSA Radio will also be available at IMSA.com. NBCSN will broadcast a two-hour race recap, currently scheduled to air Wednesday, August 18 at 1:00 p.m. Eastern (check local listings).