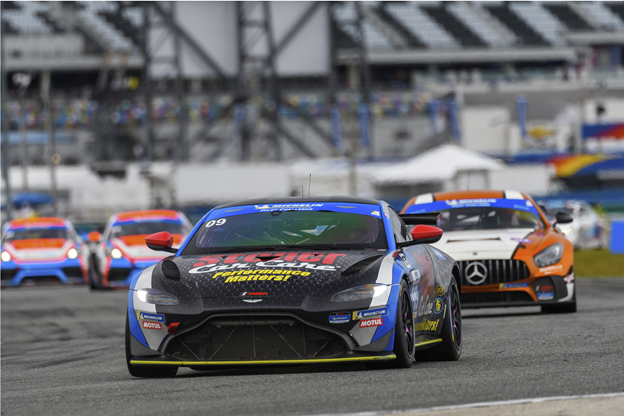 Sebring event marks the second of two home-state races for the team, at one of the world's most historic racetracks. 
ORLANDO, Fla. (14 March 2022) – The veteran Stoner Car Care Racing fielded by Automatic Racing team heads to one of the world's legendary racetracks, Sebring International Raceway, this week for the two-hour Alan Jay Automotive Network 120, race two of the 2022 Michelin Pilot Challenge season.
The team also looks forward to contesting a new category within the series' Grand Sport (GS) Class – the Bronze Cup, which presents individual race podium and season-end recognition to the top FIA Bronze-rated drivers.
The Sebring race week marks the second of two straight "home races" for the Florida-based team, after the season opener in January at Daytona. Rob Ecklin, Jr. and Ramin Abdolvahabi will take the wheel of the iconic No. 09 Stoner Car Care Aston Martin Vantage GT4, which made its debut last week as the latest GT4-spec race car featured on the iRacing sim racing platform.
Both Ecklin and Abdolvahabi have raced at Sebring numerous times in several different series, including HSR, the World Racing League and the Michelin Pilot Challenge. But both acknowledge that while every year is different, with different sets of challenges, one thing remains the same: how you manage the infamous Sebring bumps goes a long way toward dictating the outcome of your race.
"I really like Sebring," said Ecklin. "Typically, my favorite tracks are ones with elevation changes, but Sebring makes up for a lack of elevation with the abrupt changes in surface, from concrete to asphalt, often in one corner. I'm glad they haven't changed the track over the years – we're still competing on the same old bumpy runways that the legends raced in the 50s and 60s. I can't imagine any other track that can say that. It's fresh and exciting to run on a newly paved racetrack but to drive on one that's only been patched for 80 years is so unique.
"To put a lap together over all 17 corners is the name of the game, with a setup that is easy on both car and driver, but that's easier said than done," Ecklin continued. "It can also be hard for someone who's been in winter for months to handle that first blast of heat and humidity of the year!"
Abdolvahabi especially looks forward to his Sebring return, having missed 2021's edition due to an injury. The Palm Beach Gardens, Fla. neurosurgeon has been racing at Sebring since 2013 and has raced there more than any other track on the IMSA schedule.
"Sebring is one of the hardest tracks in the world to set up for," said Abdolvahabi. "It throws everything at you from the racetrack checklist: bumps, surface changes, slow corners, fast and sweeping corners with a change of track surface in the middle of the corner, rapidly changing conditions that dramatically affect the racing surface. Some turns are tight, some are wide, some have runoffs, others don't – and you know it's going to be warm. It's such a challenging track. That's why every team goes there to test. It's also tough coming right after Daytona on the schedule – Daytona has five turns, basically, while Sebring has 17, and it's a completely different surface. You can drive Sebring for years and never get bored.
"And Sebring has such a legacy, with its history before it was a racetrack – what it went through, how it was changed. There's no track like it in the world. You would think that a track like this would have been repaved numerous times over the decades, but teams and drivers are constantly calling on the track to keep the surface the same. That tells you everything you need to know about the history, that after 80 years, no one wants to change it."
Part of the IMSA WeatherTech SportsCar Championship's Mobil 1 Twelve Hours of Sebring, the Alan Jay Automotive Network 120 takes the green flag Thursday at 4:25 p.m. Eastern. The race will be live streamed in the U.S. on Peacock TV, while international viewers can watch via IMSA.tv. IMSA Radio will also be available at IMSA.com. The race will air on USA Network Monday, March 28 at 11:00 a.m. Eastern.
ABOUT US
About Stoner Car Care 
Stoner Car Care produces high-performance car washes, waxes, polishes, and dressings for auto enthusiasts and car care professionals. The Stoner Car Care line-up includes Invisible Glass, America's #1 Automotive Glass Cleaner, along with many other appearance products. Whether driving, washing or waxing, Performance Matters! Stoner car care proudly formulates all of our product since 1942. www.stonercarcare.com 
About Invisible Glass
Automatic Racing sees their way to victory with Invisible Glass, the top-selling automotive glass cleaner in the United States. The Invisible Glass product line includes aerosol and spray bottle cleaner, Invisible Glass with rain repellent for windshields and wiper blades. Find more online at https://www.invisibleglass.com/
About Automatic Racing
Based in Orlando, Automatic Racing is one of the longest-running teams in the paddock, forming in 2001 and competing in all but one of the 11 MICHELIN Pilot Challenge races at Daytona. The team has been developing, preparing and racing the prestigious Aston Martin Vantage GT4 since 2012. Automatic Racing won the 2017 MICHELIN Pilot Challenge title.
About End Alzheimer's Racing
End Alzheimer's Racing began in 2019, as father and son duo Bill and Alex Slupski – both experienced kart racers who also work in sports car racing – chose racing as the "vehicle" for their program to promote awareness and raise funds for the Alzheimer's Association. Through End Alzheimer's Racing, they want to be an integral part of the support network for families dealing with Alzheimer's and other dementias and be part of the cure that ends Alzheimer's disease.
http://act.alz.org/goto/endalzheimersracing