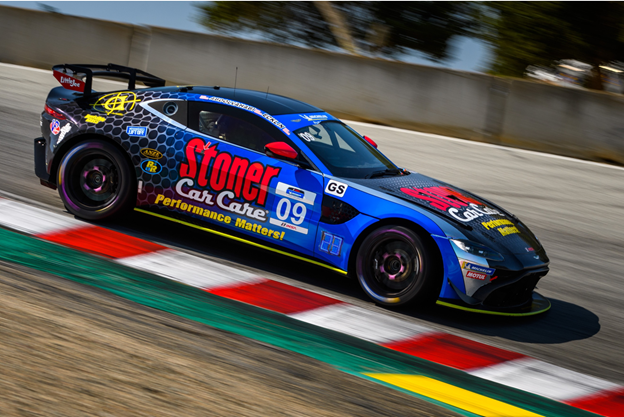 The team finishes its three-weekend cross-country trek this weekend at Mid-Ohio 
MANSFIELD, Ohio (9 May 2022) – The Stoner Car Care Racing fielded by Automatic Racing team heads to the Mid-Ohio Sports Car Course for the Mid-Ohio 120, race four of the 2022 Michelin Pilot Challenge season. 
Rob Ecklin, Jr. (Lancaster, Pa.) and Ramin Abdolvahabi (Palm Beach Gardens, Fla.) are back behind the wheel of the No. 09 Stoner Car Care Aston Martin Vantage GT4. The pair looks to rebound from a difficult weekend at WeatherTech Raceway Laguna Seca two weeks ago. 
It has been an intense schedule of events for the team through the last three weekends, with races in California, Wisconsin, and now Ohio.  Abdolvahabi joined Automatic Racing's World Racing League team last weekend to capture a win in the eight-hour race at Road America. 
Both drivers hope to secure their first Bronze Cup victory this weekend. The series added the Bronze Cup this season in the Grand Sport class, recognizing the top FIA Bronze-rated drivers in the series. Neither driver has been to Mid-Ohio since the 2019 season, and both recognize the particular challenges that the tricky track presents. 
"Weather is often an issue at Mid-Ohio and when it rains, it's a completely different racetrack," said Ecklin. "I have been re-familiarizing myself with the layout on iRacing
(note: iRacing recently added both Stoner Car Care liveries to their GT4 lineup – the No. 09 Stoner colors and the iconic No. 99 Invisible Glass version).
I know the corners I need to work on, I remember that much from 2019 – and now that I can run the No. 09 Stoner Car Care car on iRacing, that's the next best thing to being there." 
Ecklin was not able to race with the team in the World Racing League event at Road America last weekend but acknowledges that while two events in three weekends can be difficult from a business perspective, it can be very helpful to a race car driver. 
"It's great to have events this close together," said Ecklin. "It keeps you in rhythm. For me, the more I can be in a car, the better. I don't have time outside of race weekends to do anything but sim racing, and even that is time challenged. So getting into this kind of rhythm is very helpful, to be able to just hit the ground running at a track as tricky as Mid-Ohio. When you're at work, you're at work, but when you hit the front gates at the racetrack, you're back in racer mode. It's all about focus and compartmentalization." 
For Automatic Racing team manager David Russell, the past four weeks have been quite the logistical challenge. 
"We brought a small trailer to Road America straight from Florida, with the regular transporter going straight there from WeatherTech Raceway – it's basically on the way," said Russell. "We had the wheel issue but no other problems so prep for the 09 Aston Martin has been pretty straightforward. We're hoping for good weather next weekend, though I feel that you can always bank on a storm at some point during a race weekend at Mid-Ohio. I love Mid-Ohio - the track has great flow and we've had some good runs there. We're into a good run of natural road courses here, tracks that suit the Aston Martin, so we're looking for a good result." 
Part of the IMSA WeatherTech SportsCar Championship's Lexus Grand Prix, the Mid-Ohio 120 takes the green flag Saturday at 4:05 p.m. Eastern. The race will be live streamed in the U.S. on Peacock TV, while international viewers can watch via
IMSA.tv
. IMSA Radio will also be available at
IMSA.com
. A race replay will air on USA Network Saturday, May 21 at 3:00 p.m. Eastern. 
ABOUT US
About Stoner Car Care 
Stoner Car Care produces high-performance car washes, waxes, polishes, and dressings for auto enthusiasts and car care professionals. The Stoner Car Care line-up includes Invisible Glass, America's #1 Automotive Glass Cleaner, along with many other appearance products. Whether driving, washing or waxing, Performance Matters! Stoner car care proudly formulates all of our product since 1942.
www.stonercarcare.com
About Invisible Glass
Automatic Racing sees their way to victory with Invisible Glass, the top-selling automotive glass cleaner in the United States. The Invisible Glass product line includes aerosol and spray bottle cleaner, Invisible Glass with rain repellent for windshields and wiper blades. Find more online at 
https://www.invisibleglass.com/
About Automatic Racing
Based in Orlando, Automatic Racing is one of the longest-running teams in the paddock, forming in 2001 and competing in all but one of the 11 MICHELIN Pilot Challenge races at Daytona. The team has been developing, preparing and racing the prestigious Aston Martin Vantage GT4 since 2012. Automatic Racing won the 2017 MICHELIN Pilot Challenge title.
About End Alzheimer's Racing
End Alzheimer's Racing began in 2019, as father and son duo Bill and Alex Slupski – both experienced kart racers who also work in sports car racing – chose racing as the "vehicle" for their program 
to promote awareness and raise funds for the Alzheimer's Association
. 
Through End Alzheimer's Racing, they want to be an integral part of the support network for families dealing with Alzheimer's and other dementias and be part of the cure that ends Alzheimer's disease.