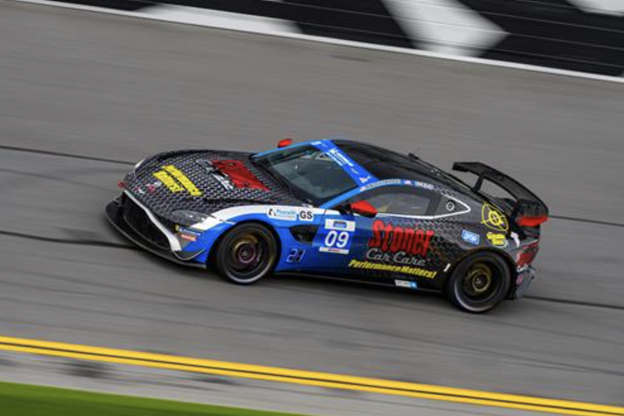 Plenty of positive takeaways from the three-day Roar Before the 24 test
DAYTONA, Fla. (25 January 2021) – The Stoner Car Care Racing fielded by Automatic Racing team came to the Roar Before the Rolex 24 with one plan in mind: shake off the rust between Michelin Pilot Challenge racing seasons, bring its No. 09 Aston Martin Vantage GT4 up to speed, and come away from the weekend with new knowledge and a solid car.
Mission accomplished, after three days of intensive testing that saw nearly every kind of weather condition that a Florida January can muster. The team now has three days to fine tune, check data and prepare for the season opener, Friday's four-hour BMW Endurance Challenge, part of the IMSA WeatherTech SportsCar Championship's Rolex 24 At Daytona weekend.
Drivers Rob Ecklin Jr. (Lancaster, Pa.), Ramin Abdolvahabi (Palm Beach Gardens, Fla.) and Brandon Kidd (Syracuse, NY) will pilot the No. 09 Stoner Car Care Aston Martin this weekend. Abdolvahabi and Kidd focused on bringing themselves back up to speed and to test the fully refurbished Aston Martin.
A total of five sessions were on the schedule, though – with a dry forecast for the next week – the team chose to sit out Saturday's practice in very wet and cold conditions. But at the end of the weekend, the team had checked everything off their to-do lists and takes a healthy degree of confidence into the weekend.
The driving trio will team up for the third straight year, with 2021 marking the 10th consecutive Rolex 24 weekend appearance for Ecklin. Both Kidd and Abdolvahabi were happy with the car's progress through the Roar weekend and look forward to the first race weekend of the new season.
"This series is so competitive, so the whole point of this weekend for me was to make sure that nothing felt foreign, that I picked up right where I left off last year," said Kidd. "It was a good weekend overall, especially that last session. We just wanted to check the changes we made Saturday and make sure some of our issues were corrected and that everything was intact. But that's what the Roar is for, to have these issues now and get them fixed before the race weekend begins. It makes sense to roll right into the Rolex weekend, everything is fresh in our minds."
"Rob will be here for the race and he's good here, so the plan will be to get that top 10," continued Kidd. "The first three hours are all about staying clean and on the lead lap. Hopefully we'll keep it clean and give it 100% in the end. I know there's more speed that we can get out of it, but the Automatic guys did a great job and the Stoner Car Care Aston Martin looks great out there!"
"It's good to get back into the rhythm of things and to get the car setup as good as we could," said Abdolvahabi. "We have a bit more that we can do, especially since we lost time on Saturday, but we have plenty sorted out and we know we'll have a good car. It's a four-hour race, so consistency is first and foremost – no penalties, no silly mistakes. Be smart for three hours, no risks, and be there at the end. We have three consistent drivers, and the car feels good. I didn't get to the apex today as much as I would have liked, so I honestly think there's over a second left in the car."
"We had a few gremlins but that last session was a good one for us," said Automatic Racing team manager David Russell after the Roar. "We were able to check off a few more boxes and find a really good balance, the best of the weekend. We'll spend time on the fine details next week that will improve the effort. This is the third year that Rob, Ramin and Brandon have run this race together and they know the drill. You can't run the race like a two-hour race so the focus is on good pit stops and good strategy."
The BMW Endurance Challenge at Daytona takes the green flag at 1:35 p.m. Eastern on Friday, January 29. The race will be broadcast live in the U.S. on NBC Sports Gold's TrackPass, while international viewers can watch via IMSA.tv. IMSA Radio will also be available at IMSA.com. 
ABOUT US
About Stoner Car Care 
Stoner Car Care produces high-performance car washes, waxes, polishes, and dressings for auto enthusiasts and car care professionals. The Stoner Car Care line-up includes Invisible Glass, America's #1 Automotive Glass Cleaner, along with many other appearance products. Whether driving, washing or waxing, Performance Matters! Stoner car care proudly formulates all of our product since 1942. www.stonercarcare.com
 
About Invisible Glass
Automatic Racing sees their way to victory with Invisible Glass, the top-selling automotive glass cleaner in the United States. The Invisible Glass product line includes aerosol and spray bottle cleaner, Invisible Glass with rain repellent for windshields and wiper blades. Find more online at https://www.invisibleglass.com/
 
About Automatic Racing
Based in Orlando, Automatic Racing is one of the longest-running teams in the paddock, forming in 2001 and competing in all but one of the 11 MICHELIN Pilot Challenge races at Daytona. The team has been developing, preparing and racing the prestigious Aston Martin Vantage GT4 since 2012. Automatic Racing won the 2017 MICHELIN Pilot Challenge title. https://automaticracing.com