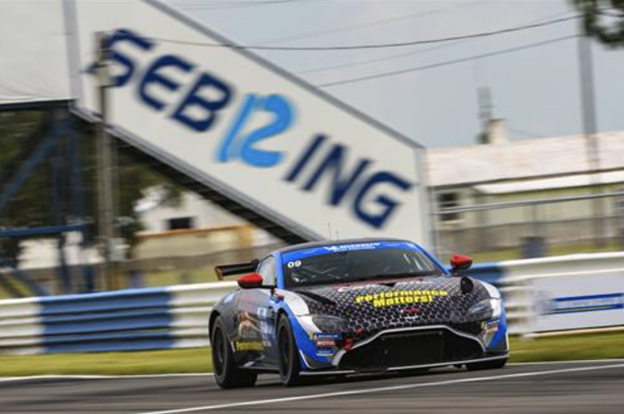 ORLANDO, Fla. (16 March 2021) – As a home race for Stoner Car Care Racing fielded by Automatic Racing, local knowledge of Sebring International Raceway flows freely throughout the team. 

That knowledge will be a vital component in this week's Alan Jay Automotive Network 120, race two of the 2021 Michelin Pilot Challenge season (Friday, 2:35pm ET, TRACKPASS). 

Veteran Rob Ecklin Jr. (Lancaster, Pa.) will be joined by Brandon Kidd (Syracuse, NY) behind the wheel of the No. 09 Stoner Car Care Aston Martin Vantage GT4, with Kidd competing in his first race at the iconic 3.74-mile road course. Friday's race will be the precursor to the IMSA WeatherTech SportsCar Championship's Mobil 1 Twelve Hours of Sebring. 
Kidd joined the team four years ago following a successful ARCA, late-model and karting career. Given Sebring's legendary history – and knowing how much of a knowledge base the team has – Kidd can't wait for the opportunity. 

"Drivers rave about Sebring and how awesome a track it is to race at, so I finally get my chance to 'respect the bumps!"' said Kidd. "I've been to the track, but I've never raced there before, so this will definitely be a learning experience. I've been working on the sim via iRacing and from what I can see on the videos, it's a very accurate depiction of the track in regard to visual cues. I'll be as prepared as I can be once I get there on Wednesday. It's only been two months since Daytona so the track should be the only new variable. 

"But I'm used to jumping into a new racetrack," continued Kidd. "When I joined the team, all the tracks were new to me, but because I worked on the sim so much, I got up to speed quickly. Hopefully this will be no different!" 

With 11 years of experience with the team and at the racetrack, Ecklin looks forward to bringing Kidd up to speed on the nuances and pitfalls of Sebring.

"You can't make a mistake there, on pit lane or on track, and luck is always involved," said Ecklin. "But the main keys are to drive fast, no contact, no penalties: that's always our goal, and that's no different for Sebring. But it's always fun to race here, between the challenge of the track and the weather, and the history. To race on a track that was born out of WWII, and all the names on the wall along pit lane, it's as though you're part of its history." 
With mid-week temperatures expected to reach 90 degrees, Automatic Racing team manager David Russell knows that preparation for drivers and car is crucial, especially given the physical nature of the racetrack itself. 

"For Brandon, it's all about preparation going into the event," said Russell. "He can get the site pictures down on the sim, but he also has good in-car video and notes from Tom Long (the veteran racer who has driven with the team on several occasions) so he'll be prepared when he gets there – except of course, for the bumps. He's been a quick study at all the tracks we've raced at that are new to him, that's one of his strengths. And Rob knows the track intimately, so Rob can transfer some of that expertise. It's our home track as well, so there's plenty of available local knowledge. 

"Sebring is a very technical track and one of the most physical racetracks we go to, because you're busy all the time. You're constantly dealing with something, whether it's the bumps or the changes to the track surface. But I'm confident that both drivers will be ready come Friday!"

The Alan Jay Automotive Network 120 takes the green flag Friday, March 19 at 2:35 p.m. Eastern. The race will be broadcast live in the U.S. on NBC Sports Gold's TrackPass, while international viewers can watch via IMSA.tv. IMSA Radio will also be available at IMSA.com. NBCSN will broadcast a two-hour race recap on Friday, April 2 at 1:00 p.m. Eastern (check local listings). 
ABOUT US
About Stoner Car Care 
Stoner Car Care produces high-performance car washes, waxes, polishes, and dressings for auto enthusiasts and car care professionals. The Stoner Car Care line-up includes Invisible Glass, America's #1 Automotive Glass Cleaner, along with many other appearance products. Whether driving, washing or waxing, Performance Matters! Stoner car care proudly formulates all of our product since 1942. www.stonercarcare.com
 
About Invisible Glass
Automatic Racing sees their way to victory with Invisible Glass, the top-selling automotive glass cleaner in the United States. The Invisible Glass product line includes aerosol and spray bottle cleaner, Invisible Glass with rain repellent for windshields and wiper blades. Find more online at https://www.invisibleglass.com/
 
About Automatic Racing
Based in Orlando, Automatic Racing is one of the longest-running teams in the paddock, forming in 2001 and competing in all but one of the 11 MICHELIN Pilot Challenge races at Daytona. The team has been developing, preparing and racing the prestigious Aston Martin Vantage GT4 since 2012. Automatic Racing won the 2017 MICHELIN Pilot Challenge title. https://automaticracing.com