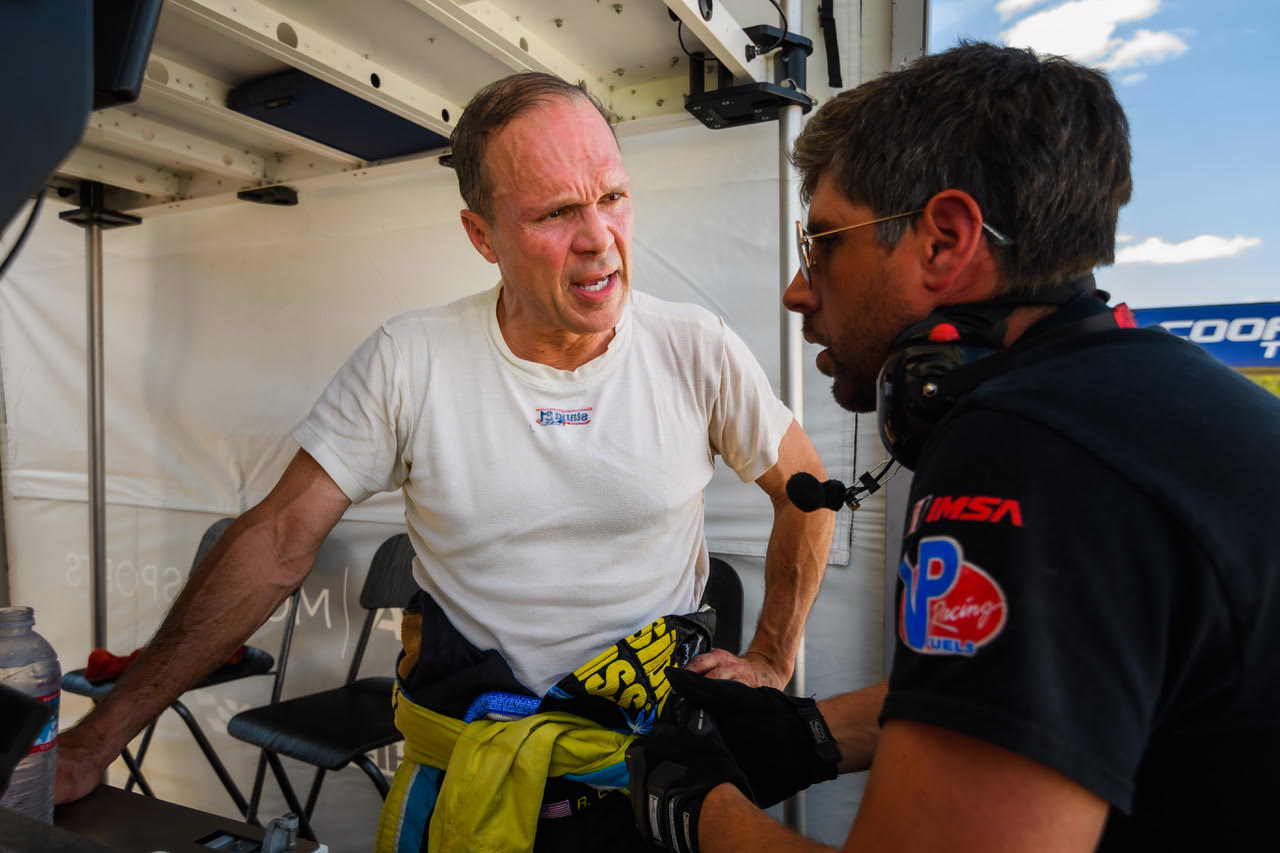 LEXINGTON, Ohio (14 May 2022) – The Stoner Car Care Racing fielded by Automatic Racing team continued to make forward progress during Saturday's Mid-Ohio 120, returning to the famed Mid-Ohio Sports Car Course for the first time since 2019 to contest race four of the IMSA Michelin Pilot Challenge season.
Drivers Rob Ecklin, Jr. and Ramin Abdolvahabi worked with the team to make steady progress through two practice sessions on Friday with the No. 09 Stoner Car Care Aston Martin Vantage GT4. Qualifying late Friday afternoon, Abdolvahabi found a nearly-clear lap of traffic to book a time good for the 12th row of the grid.
At the start of the two-hour race, Abdolvahabi found himself in the middle of an accordion effect after two cars got together at the top of Turn Four. Abdolvahabi was nearly hit from behind but held his ground and pressed forward, settling into P18. The incident caused a lengthy yellow, with the field returning to green with an hour and 45 minutes remaining.
Abdolvahabi's good fortune continued, as an incident happened just behind him with just over 90 minutes remaining. He stayed out on track, gaining valuable positions and taking the restart in 14th position. As the race progressed, the name of the game became managing traffic – and with Mid-Ohio's notoriously slippery track surface becoming even more so, Abdolvahabi struggled to hold his position, bringing the car to pit lane from P21 for fuel, tires and a change to Ecklin with just under an hour remaining. Ecklin returned to the fray in the car's original starting position. Having pitted late, the team hoped for a late yellow
Ecklin's adventures began immediately, tagged from behind early in his stint. The car clearly sustained no damage, as Ecklin paced the Aston Martin to its quickest time of the race several laps later, with a lap 1:30.365 with just under 30 minutes remaining. Despite his best efforts, Ecklin was not able to improve his position, coming home in 22nd position.
"We haven't raced here in three years, so it's nice to be back," said Ecklin. "It was a good stint but unusual in that it was green the whole way! I was fine physically, and the car was good, but in the end I think we need to get more out of the car and out of the drivers. We just didn't have the pace out there. It was interesting to watch some of the other drivers out there – their brake points, their lines through the corners and apexes. Not having been here in so long, I was looking for some of those nuances.
"We nip away at it every weekend – the team is really responding," Ecklin continued. "But we need to get this car to another notch. It's really close, it's really coming in. We give the team feedback, the Automatic Racing guys make improvements, so we're getting there. 
"That first lap was just mayhem," said Abdolvahabi. "There were cars all over the place. Luckily, we got through it, but a bit unlucky as well because we were inside of the incident, while the cars that were outside got away cleanly. It wasn't a great stint for me, I wasn't on top of the car and started to have issues with the car slipping. But it was mostly me – the car did what it was supposed to do, I just wasn't on top of my game. We have some catching up to do on cornering speed but we had more potential than we showed."
The Stoner Car Care team continues to support End Alzheimer's Racing, carrying decals on the car to help their efforts to raise funds and awareness.
Next up for the Stoner Car Care Racing Team will be the Tioga Downs Casino Resort 120 on Saturday, June 25 from Watkins Glen International Raceway.
 ABOUT US
Stoner Car Care produces high-performance car washes, waxes, polishes, and dressings for auto enthusiasts and car care professionals. The Stoner Car Care line-up includes Invisible Glass, America's #1 Automotive Glass Cleaner, along with many other appearance products. Whether driving, washing or waxing, Performance Matters! Stoner car care proudly formulates all of our product since 1942. 
www.stonercarcare.com
Automatic Racing sees their way to victory with Invisible Glass, the top-selling automotive glass cleaner in the United States. The Invisible Glass product line includes aerosol and spray bottle cleaner, Invisible Glass with rain repellent for windshields and wiper blades. Find more online at 
https://www.invisibleglass.com/
Based in Orlando, Automatic Racing is one of the longest-running teams in the paddock, forming in 2001 and competing in all but one of the 11 MICHELIN Pilot Challenge races at Daytona. The team has been developing, preparing and racing the prestigious Aston Martin Vantage GT4 since 2012. Automatic Racing won the 2017 MICHELIN Pilot Challenge title.
About End Alzheimer's Racing
End Alzheimer's Racing began in 2019, as father and son duo Bill and Alex Slupski – both experienced kart racers who also work in sports car racing – chose racing as the "vehicle" for their program to promote awareness and raise funds for the Alzheimer's Association. Through End Alzheimer's Racing, they want to be an integral part of the support network for families dealing with Alzheimer's and other dementias and be part of the cure that ends Alzheimer's disease.