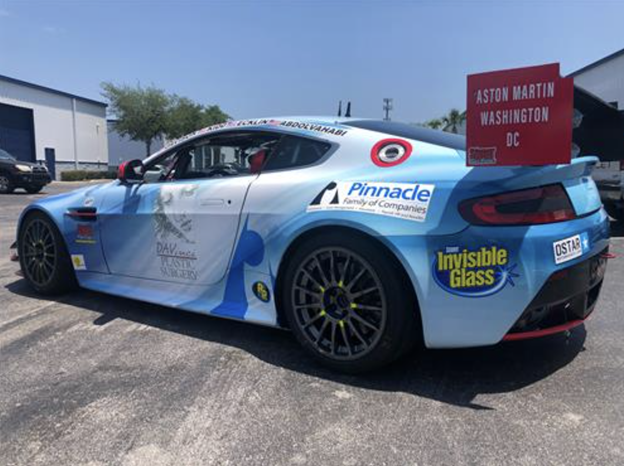 Two eight-hour endurance races highlight Round Four of the WRL Season
ORLANDO, Fla. (5 May 2021) – Stoner Car Care Racing fielded by Automatic Racing heads to Road America this weekend, ready to take on the challenge of "America's National Park of Speed" for Round Four of the World Racing League (WRL) season.
Rob Ecklin Jr., Steven Davison and Ramin Abdolvahabi will put their No. 19 Aston Martin Vantage GT4 to the test in the Can Am Endurance Cup weekend, comprised of two, eight-hour endurance races on Saturday and Sunday on the legendary 14-turn, 4.048-mile road course near Elkhart Lake, Wisconsin. 
The WRL's unique formula provides for extensive track time over a three-day event weekend, with combined practice and qualifying sessions (cars set quick times throughout the sessions, with times not published until after the final session), and two endurance races lasting eight to 24 hours. Cars run on a power-to-weight ratio, so a variety of cars contest each weekend. 
The series' mission statement is positioned between entry-level racing and pro racing, which allows for affordable and competitive events within four classes (GTO, GP1, GP2, GP3).
The Stoner Car Care team has had success in the series and in the GTO class over the past six months, finishing fourth at Barber Motorsports Park in March and earning a victory at Circuit of The Americas last December. 
Friday's schedule consists of a warmup and four combined practice qualifying sessions, leading into the weekend's two races. Ecklin enjoys the full-day format, especially when issues arise.
"It's a competitive series and the amount of track time is a big benefit," said Ecklin. "I like battling in that full-day format – it's good competition and another level of accomplishment after a full-day on track. And there's time if something goes wrong. We had a transmission issue Saturday at Barber, and the crew worked late to switch it out. We started 19th and by the end of the race, we were battling for a podium. You never count yourself out.
"It's a great practice for the upcoming IMSA Michelin Pilot Challenge weekend at Road America as well. Everyone loves coming to Road America, it's so fast and flowing. You have to go in there with some confidence."
According to Automatic Racing team manager David Russell, job one will be staying out of trouble with over 90 cars taking the green flag on the weekend.
"Our goal is to win both races, and I think we have the car and the effort to do that," said Russell. "It's going to be busy out there with 90 cars overall and 45 cars in our class and given the fact that Road America is a narrow track, it will be tricky. It's mostly production-based cars but there are a few sports racers out there which makes it interesting, so it's all about sticking to the pace your car can run for eight hours. 
"We just did a rebuild on this car and it's quite tough," Russell continued. "And Road America is one of its best tracks, pace-wise, so we're feeling positive going into the weekend."
Catch all the action this weekend with live timing and scoring at RaceHero.com!
ABOUT US
About Stoner Car Care 
Stoner Car Care produces high-performance car washes, waxes, polishes, and dressings for auto enthusiasts and car care professionals. The Stoner Car Care line-up includes Invisible Glass, America's #1 Automotive Glass Cleaner, along with many other appearance products. Whether driving, washing or waxing, Performance Matters! Stoner car care proudly formulates all of our product since 1942. www.stonercarcare.com 
 
About Invisible Glass
Automatic Racing sees their way to victory with Invisible Glass, the top-selling automotive glass cleaner in the United States. The Invisible Glass product line includes aerosol and spray bottle cleaner, Invisible Glass with rain repellent for windshields and wiper blades. Find more online at https://www.invisibleglass.com/
 
About Automatic Racing
Based in Orlando, Automatic Racing is one of the longest-running teams in the paddock, forming in 2001 and competing in all but one of the 11 MICHELIN Pilot Challenge races at Daytona. The team has been developing, preparing and racing the prestigious Aston Martin Vantage GT4 since 2012. Automatic Racing won the 2017 MICHELIN Pilot Challenge title. https://automaticracing.com