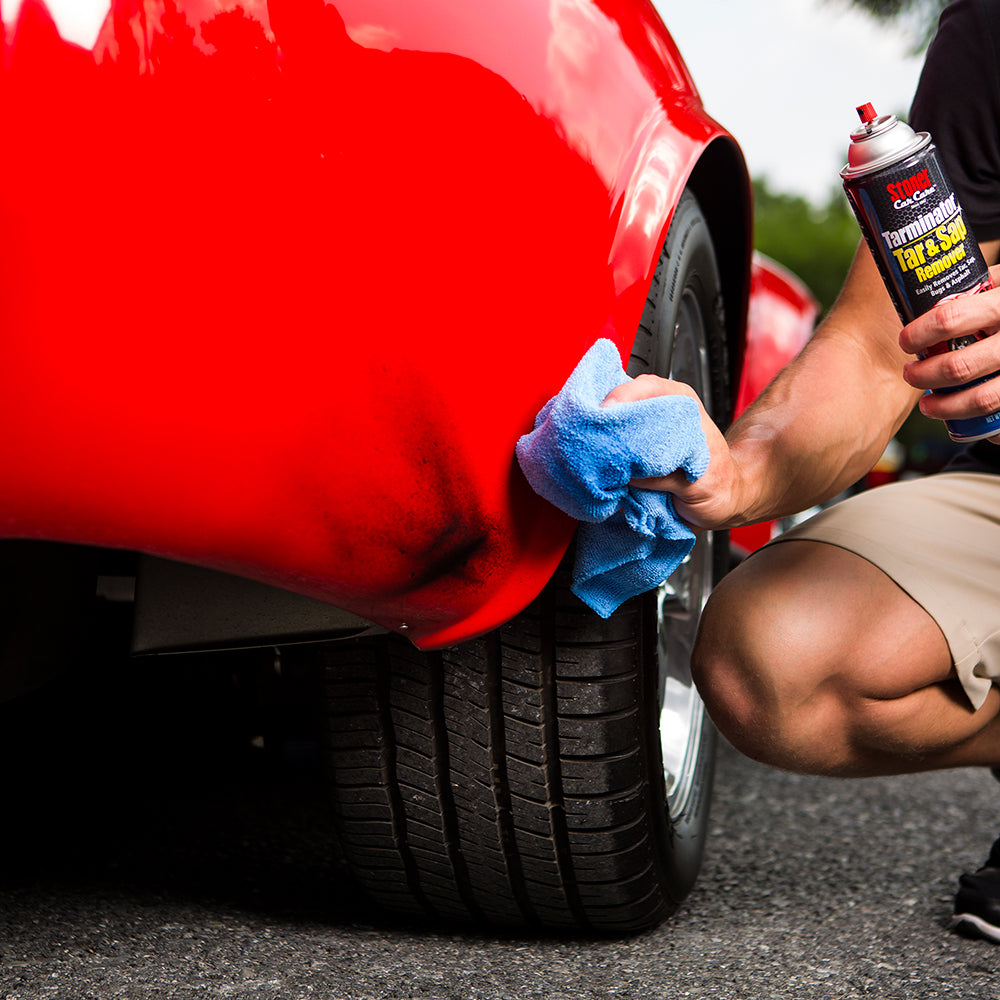 If you've ever dealt with plant sap, you know how sticky and messy it can be. It's challenging to get off any surface – especially your car. In this post, we'll provide the step-by-step process for removing sap from your vehicle plus some "sap science" to give you a little insight into the syrupy liquid.
To clean sap off your car: Rinse the area with water to remove light soiling, apply sap remover, rinse with water to remove residual grime, dry with a microfiber towel, and add a protective layer to the exterior. 
Believe it or not, you can zap the sap in a flash. Here's everything you'll need to melt away this sticky substance: 
Product list 
Rinse the area with water to remove light soiling 
The odds are that sap isn't the only contaminant on your car's exterior. Pollen, dust, and other debris are most likely along for the ride.
To remove these light contaminants, rinse the area with some water. Aside from cleaning and preparing the surface, water cools down your exterior. This is important since sap removers contain strong chemicals that cannot activate in scorching conditions. Sap removers typically contain solvents that can 'flash' off your exterior before taking effect. A quick rinse on the area will prepare the site for the coming steps. 
Apply sap remover 
We recommend using a spot test before using any new product or cleaning process. Apply the product in an inconspicuous area – this could be on the underside of the vehicle or in a door well. This test helps ensure that your product is non-damaging to your car's surfaces. Always read the instructions on the back of the product before applying. 
Consider trying Stoner Car Care's Tarminator Tar & Sap Remover to gently remove tough tree sap. Tarminator quickly dissolves and loosens tar from auto paint, working within seconds of application. Its powerful formula is safe for clearcoats, modern finishes, chrome, and coated wheels when used as directed in the label instructions.
Apply your sap remover to a microfiber towel, not directly to the exterior. These products use potent chemicals that can harm clear plastics, adhesives, decals, or solvent-sensitive materials. Applying the product onto a microfiber towel ensures that chemicals only touch the areas in which you're working. Avoid overspray; only apply the remover to the area containing sap.
Excess solution may drip down the surface after application. If this happens, immediately remove any runoff with a clean microfiber towel. Lingering products may damage your exterior with extended exposure. 
Wipe with a microfiber towel 
If you're using Tarminator, wait for 30 to 60 seconds after application for the sap particles to be lifted from the surface. They should melt off in the matter of seconds. After the recommended waiting time, gently wipe away the softened sap with a dry microfiber towel. Do not use excessive elbow grease, which can cause additional problems such as micro-scratches on the exterior.
Rinse with water to remove residual grime
Thoroughly rinse the area with water. There are two essential reasons for this step:
Rinsing removes any leftover sap and debris lifted by the sap remover. 
Clean water dilutes and washes away lingering chemicals that can eat away at your exterior finish. 
Stubborn sap can be challenging to remove, and you may need additional sap remover applications to fully remove it. If you're working with rigid or dried sap, try applying warm water to help soften the material for removal. Repeat the steps above until you achieve a spotless surface.  
Dry with a microfiber towel 
The final step: Dry the surface with a microfiber towel. Your rinse water may leave water spots or streaking if the surface isn't fully dry. A towel-drying ensures a spot-free shine. 
Add a protective layer to the exterior 
The surface of your car is now sap-free! However, the surface is not entirely safe from future stickiness and the problems it brings. While not required, the application of a protective coating is highly recommended. 
Adding a synthetic sealant or wax product will protect your exterior from sap and other debris and help in future sap removal efforts. An extra layer provides a temporary buffer between your exterior finish and the elements. Wax and synthetic sealants offer various benefits. To find out which product best suits your needs, check out our in-depth exterior detailing post. 
If you're looking for a quick and effective option, consider Stoner Car Care's Hybrid Ceramic Liquid Wax. This hybrid ceramic wax creates a hydrophobic coating that eliminates surface tension between your paint and outside elements, and it will protect your finish while adding shine.
Background behind sap 
Many know sap as a brown, sticky, annoying substance that's hard to remove on anything it touches. Most, however, don't delve into the science behind it. What exactly is sap? Why is it sticky? Can it damage your car? Let's discuss: 
What is sap, and where does it come from? 
Sap is a thick, sugary liquid composed of water and other nutrients. It's produced within the leaves (or needles) of a tree and distributed through something called the phloem – a plant substance that transports sugar and other nutrients downward throughout the plant. 
So, how does sap find its way from the inside of a tree onto the surface of your car? There are several possible ways. First, sap can pour out of a tree from a wound, such as a saw cut, natural injury, or disease. Sap runs most freely after in late winter/early spring when freezing nights give way to sunny days above 32 degrees. Some trees have sap flow throughout the seasons. Pine trees, in particular, may ooze sap year-round. 
Can sap damage your car? 
The answer is a resounding yes. Believe it or not, sap can wreak havoc on your exterior. Over time, sap bonds to the exterior of your vehicle. As the sap shrinks over time, it causes stress and tension on your car's surface. This tension can sometimes cause cracks in a vehicle's finish.   
Zap sap off! 
Sap is sticky, annoying, and problematic to your car's surface. Thankfully, its removal does not have to be a challenging endeavor. The products above and our step-by-step process ensure effective results: Rinse the area with water to remove light soiling, apply sap remover, rinse with water to remove residual grime, dry with a microfiber towel, and add a protective layer to the exterior. These steps promise to keep your car sleek and sap-free.